As someone who hates ironing, finding good garment steamers for clothes are an absolute necessity. If you are like me, the most memorable times I've had with irons include burns.
For me, the solution was switching to a product that worked for me. To save others from this traumatic event here are some reviews of the best garment steamer.
We have identified seven garment steamers to include on this list that fit a variety of needs.
Best Garment Steamer Australia
Philips Steam&Go Handheld Garment Steamer
Elite Garment Steamer by PurSteam
Philips Handheld Garment Steamer with Vertical Steaming
Kambrook KSS120GRN Swiftsteam Garment Steamer
Beautiplove Travel Clothes Steamer
Sunbeam Power Steam SG1000
Kmart Garment Steamer Review
Philips Steam & Go Handheld Garment Steamer
Vertical & horizontal steaming for more convenience
SmartFlow heated plate for better steaming results
Automatic continuous steam for easy de-wrinkling
The Philips Steam & Go Handheld Garment Steamer focuses on portability. If you take frequent business trips, this hand steamer for clothes is perfect.
With it being a portable steamer, the tank runs out three shirts in before running out of steam. So it is not for large households who steam in bulk.
The Steam & Go has a detachable tank. The portability allows for vertical steam cleanings. It also has an auto-off feature for safety. Also, the length of the cord is 2.5 meters. Given the recognisable brand, pricing is on the middle to higher range.
It has brand recognition and high-quality standards.
It has a portable design that is perfect for travelling.
It has an impressive power output and a detachable water tank.
It has an auto-off feature.
It has a small water tank that works between 2-3 shirts.
It is not suitable for large projects
Elite Garment Steamer by PurSteam
LARGE CAPACITY – 61 oz tank heats up in 45 to 60 seconds and provides 60 minutes of stable steam
STOP IRONIONG! – Up to 248 °F steam penetrates deep and relaxes fibers, can handle fabrics delicate to heavy,…
100% MONEY BACK GUARANTEE – When you order your garment steamer today, you're protected by a no-questions…
With a name that has the word "elite", it has set a high bar for being the best in this clothing steamer review.
With a high capacity 61 oz water tank, it produces steam longer than most. It can feel clunky compared to a travel steamer.
It has a five-year warranty, the highest in our list. It has an adjustable steam board that goes from 15 to 19 inches.
Accessories are included with the steam board to press collars and pockets properly. It is affordable given everything you get.
The Elite has a large-capacity tank for bulk projects.
It has attachments for fixing collars and pockets without burning yourself.
It has a five-year warranty.
It is difficult to move during use.
It is challenging to store given the number of accessories it has.
Philips Handheld Garment Steamer with Vertical Steaming
SAFE ON ALL FABRICS: Safe on all ironable fabrics, no burns guaranteed
INCLUDES ACCESSORY: Use the brush accessory for deeper steam penetration on thick garments
CONVENIENCE: An extra-long 2-meter cord provides maximum reach for your convenience
This steamer is our second consideration for the 2020s best handheld steamers from Philips. It has many of the same features as the other one.
It has limited tank capacity, so it can only to handle three garments at most. Its design can be used to steam fabrics like upholstery, making it versatile. It is not for heavy-duty projects.
It has a shorter power cord of two meters. It has the capacity for vertical steaming. It is the only one of two Philips products with a fabric brush attachment. 
The power output is also higher. Among our options for the best clothes steamers, Australia has a difficult choice including this.
Phillips has a compact, ergonomic garment steaming design.
It produces a good volume of steam given the size.
Philips is a recognisable brand with a strong customer service background.
It has a small water tank capacity.
It is not suitable for large-scale projects.
Kambrook Swiftsteam Garment Steamer
Garment Care
Kambrook Swift steam Garment Steamer
Manufactured in China
The Swiftsteam, Kambrook's "no ironing board handheld steamer," beats out both portables with a 250 ml water tank. The hourglass shape is easy to use and grip.
For me, the Kambrook Swiftsteam puts itself on the best steamer list because I do not have to refill it after two shirts. It is excellent among these products with the number of button-up shirts I own.
The design and the lack of a detachable tank make it less portable than others. This is not for those looking for a small portable garment steamer.
For those willing to sacrifice portability for tank capacity, Kambrook has a strong candidate for the best handheld garment steamer in Australia.
One of our more cost-effective products in these reviews.
It is lightweight but maintains an impressive tank capacity.
The tank doubles as a base you can safely put down.
It has a smaller, one-year warranty.
May be too heavy for some at 1.11 kg and the large tank.
Beautiplove Travel Clothes Steamer Review
[SUPER STRONG STEAM]: The portable garment steamer heats quickly within 90s and emits strong steam…
[DOUBLE SAFETY PROTECTION]: The professional garment steamer uses unique PTC technology to prevent…
[WORLDWIDE VOLTAGE ADJUSTMENT]: The clothes steamer specially designed for international travel and business!…
The Beautiplove a lightweight option, as it advertises itself "without a transformer." It is on the list because of its impressive battery life and travel pouch.
It can also emit steam for around 8 to 10 minutes, a very decent standard. This one ranks well as a travel steamer Australia should consider.
It automatically turns off at any sign of overheating. The tank between the Philips portables and the Swiftsteam. It also produces 700w of power, much smaller than others.
Like the other contenders for the best handheld steamer, it lacks an adjustable head for larger projects.
It comes with a travel pouch.
It has an auto-off feature for safety.
It has a unique, streamlined design.
It has a one-year warranty.
The heat-up time is 90 seconds, which is longer than some.
Sunbeam Power Steam
Fast heat in less than 45 seconds with 15 minutes of continuous steam
Sanitizes and refreshes all types of fabric, linens and drapery with deep steam penetration to remove odors,…
Heated wide-press bar presses out tough wrinkles and dries fibers to prevent re-wrinkling with wide steam…
Sunbeam draws the line with what is considered a portable clothes steamer with this beast. While the weight is 1.8 kg, adding water to the 300 ml tank makes it much heavier.
It also has the most massive power consumption and steam output. In these garment steamer reviews, Australia has what you would consider a "heavy hitter."
Where it sacrifices in portability, it makes up elsewhere. The amount of steam it produces is enough to take on large projects. With a reasonable price, this professional garment steamer is a solid consideration.
As a result of the high output, make sure you take precautions. It lacks the auto-off features mentioned in other reviews on this page.
It has the most prominent water tank amongst our options.
It has the most massive power output.
It has a very high steam output at 23 g/min.
It weighs the most.
It does not have an auto-off feature.
Kmart Garment Steamer Review Australia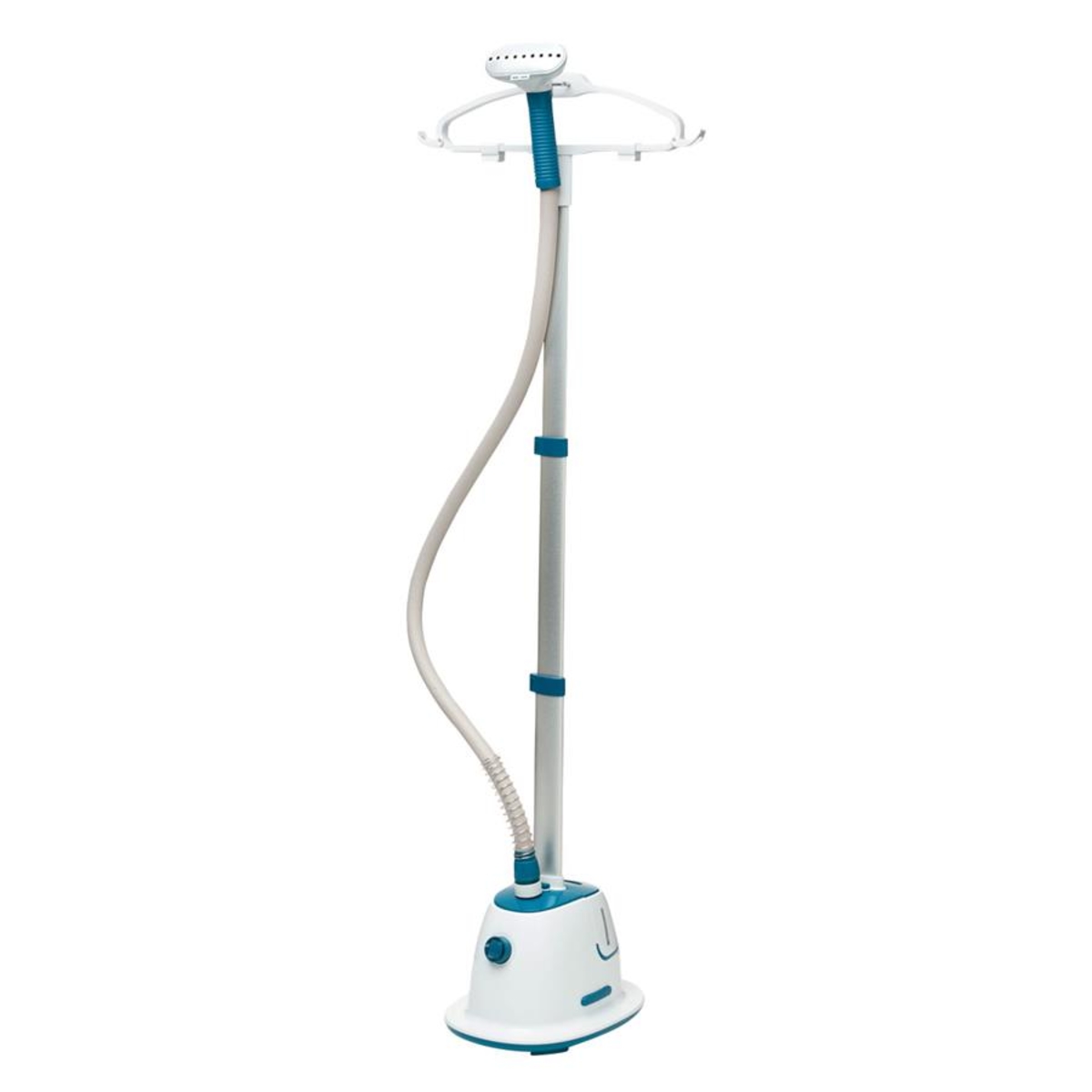 Kmart adds two candidates for the best clothes steamer Australia has. The handheld option is a very price-conscious model that heats steam in 30 seconds. It focuses on bare minimum needs.
Referencing handheld clothes steamer reviews, it's on par for tank size and cord length with the Philips. This steam machine addresses quality concerns by going through Kmart's quality system.
Kmart offers a product that has a 1-litre capacity that produces steam for a continuous 50 minutes, an impressive amount of steam time. As someone with a family, I could use something like this every week.
As a result of its telescopic design, it is easy to store. But it feels a lot easier to break than the products in our other reviews.
Comes in two variants: handheld and regular.
It has a very reasonable price.
The standard version has 50 minutes of continuous steam.
Comes with a limited 12-month warranty.
It has a small tank at 80 ml.
Key Features to consider before buying the top Garment Steamer – 2020
When thinking of your needs, consider these features as you are making a purchase.
Safety Features
If safety is a significant concern for you, make sure you purchase a product with an automatic off feature. If your garment steamer was to be left on, it could be dangerous.
Variable Steam & Steam Time
The more steam output you have, the better teamed your clothes tend to be. For larger projects, take the steam time consideration. If you wish to clean a large number of fabrics like polyester, upholstery, or curtains, consider higher output. You may not need high output if you have thinner material.
Water Tank Capacity
Consider that a water tank of 70 ml tends to clean nearly three shirts. If your tank capacity is limited and you need to wash ten shirts, you have bought a product not suited to your needs. The size of the water tank will also counteract the portability of the item.
Telescopic Pole & Maneuverability
A telescopic pole is useful for people who have limited storage space. While these tend to be limited to a steamer that is considered non-portable, they do help you with maneuverability. Smaller products tend to be the best if this is to be a primary focus for you.
For example, if you wish to keep your clothing in a walk-in closet, get a smaller garment steamer.
Ease of Use
Ask yourself "How will I be using this?" If you need to take it on long business trips, you will want a portable device. If you plan on steaming a lot of things at home, you will want to focus on tank capacity, and the time it can be used.
You may also want to take into consideration the size of the head, which can cause it to be unwieldy depending on your expectations.
Accessories
The accessories you need will depend on your clothing. If you have a lot of clothes that include front pockets and collars, consider clip accessories. Otherwise, the most common accessory is a fabric brush.
Some even come with a small device resembling an ironing board, so that you can focus on eliminating creases. If you want to invest in a steamer, garment quality and style will have to be a consideration. This will affect what accessories you need.
Price
A higher price does not always mean a higher-quality product. When making a purchase, consider your needs foremost. Once you have a comprehensive list, find products who have most of the needs you have. You may have to decide which options you are willing to give up.
Warranty
If a product has an extended warranty, that tends to mean they have confidence in their product. The best warranties in this market go up to five years, but the most common warranty is one. Try not to focus too hard on this one, as it may distract you from what your needs are.
Different Types Of Garment Steamers
Below is a list of the different types of steamers and what puts them into different categories.
Standing (floor) steamers
Floor steamers are steamers that have a base that touches the floor. They commonly have wheels or a telescopic pole that allows you to move them along the floor.
They are for larger projects, such as a high number of shirts or large curtains. Two products that fit the category are the Elite and the Kmart standard steamer.
Mid-size handheld steamers
Mid-size handheld steamers are those that attempt to combine portability with power. You may find something you can easily take with you to the office or leave at home.
These are for those who regularly steam their garments in a variety of locations. The product examples we use are the Kambrook steamer and the Sunbeam.
Portable Steamers
Portable Steamers focus on portability over taken size and convenience. They are not contingent on having batteries or not but are entirely handheld. These are recent compared to floor steamers mentioned earlier.
They are for garments to be left at the office or a small number of shirts needing quick steam. The Philips Handheld and the Kmart portable are two steamers that fit this requirement.
Travel steamers
Travel steamers are for long-distance travel. They are similar to portable steamers in the fact that they are maneuverable. Travel steamers are for storing in your briefcase, given how small they tend to be. Many of them can operate without a cord. The products we have reviewed include the Beautiplove and the Philips Steam & Go
FAQ
Is it better to iron or steam clothes?
Steaming is better overall, as it tends to relax the fabric over pressing it down. Irons have a higher tendency to pressure and burn certain materials, where the chances of burning with a steamer are virtually impossible. Irons are still useful for those undesirable creases that just cannot come out.
Does steaming shrink clothes?
When heat meets clothing, it will always have the chance to shrink potentially. It is especially true when it comes to fabrics like cotton. Avoid steaming cotton at all costs. Be sure to consult your owner's manual if you have further questions.
What fabrics should not be steamed?
The fabric to avoid steaming is cotton. Cotton has a difficult time resisting shrinkage. As advertised on most pages, a fabric steamer can be on almost any material with little issues. It is good advice to check the owner's manual if you are uncertain about this.
Does steaming damage clothes?
Provided that you use your steamer correctly, your clothing will not be damaged. With more delicate fabrics, such as silk, be sure to steam with caution. You can also test out the steamer on a small sample of the material to be sure that it will be safe. As stated earlier, be sure to view the product descriptions and owners manual for more details.
Does a steamer get wrinkles out?
Yes, a steamer does get the wrinkles out of your clothing. However, it does so in a gentler way than ironing. By steaming your clothes and relaxing the fabric, it allows those wrinkles to fall out of place. For creases that refuse to come out, that is when the iron will be necessary.
Can you put essential oils in a garment steamer?
Consult the owner's manual of your product to be sure of what items you can put into it. Most steamers are for exclusively holding water. Heating oils, which may contain alcohol, could damage your machine. Consult the manufacturer's customer service line for further details.
Conclusion – Garment Steamer Reviews
After a thorough examination of the best garment steamer in Australia. The clear winner among garment steamers is the Sunbeam Power Steam. Where it lacks in other features, it makes up everywhere else. The Power Steam is for tasks that require portability to jobs that require a heavy-duty model.
While it is true that you may prefer a Philips or Kambrook for their portability, Sunbeam manages to create a healthy balance when taking all factors into account. It is the product that I use at home, but just light enough that I could comfortably store it without much issue.
You may also prefer Kmart or the Elite for at-home use, but this review seeks to sort through garment steamers to find one that meets all needs.
It also happens to be in the middle of the price range, which makes it a reasonably priced product given the power that it has. In competition with one victor, the Sunbeam is the clear winner.
Where to Buy?
Kmart Garment Steamers
If you are a cost-conscious consumer, Kmart will be your number one choice. They will sell the two garment steamers that are under their brand, but they will possibly sell some of the lower-cost options depending on the location.
The Good Guys Garment Steamers
The Good Guys sell the Phillips, Kambrook, and Sunbeam's product. Keep an eye on their website as they add to their stock.
Target Garment Steamers
Target sells a wide variety of goods that include the best steamers. The best you can do is walk into the store to see their excellent selection of items.